BY: By ROBIN CAUDELL Press-Republican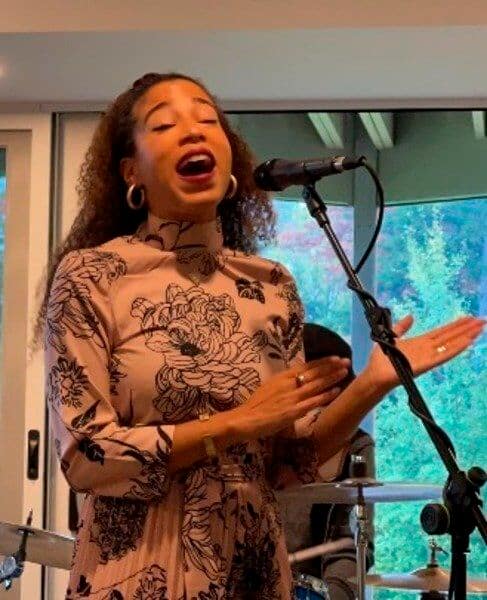 Plattsburgh Gospel Choir's 'Fall Finale," a COVID pivot
PLATTSBURGH – Plattsburgh State Gospel Choir's "Fall Finale" Saturday evening is a twinkle of its annual "A Soulful Christmas."
Under the artistic direction of Dr. Dexter Criss, choir director Andrea Ogle and band leader Josue Deluna Hilario, the choir, celebrating its 30th anniversary, will perform a holiday mix of Thanksgiving and Christmas selections as well as standard gospel fare.
Singer-songwriter Myra Flynn, host of VPR's "Brave Little State," is special guest soloist.
"Because COVID cases were so unpredictable earlier in the semester, we decided to bring the concert into November instead of doing it on the other side of Thanksgiving," Criss said.
"I was concerned that they may go remote. So being proactive and getting ahead of things, we decided to do our concert basically before Thanksgiving instead of after Thanksgiving."
Concert-goers can look forward to a blended, pre-holiday concert.
"For example, we're doing three songs that represent Christmas, and we're doing one song that represents Thanksgiving and the other songs will be inspirational songs very typical of our gospel choir."
LOCKDOWN LOOP
When the word went out and the world shut down in March for 2020, so did the choir.
"We didn't meet or anything until that summer of 2020, and even then that was probably like August when we finally started practicing again," Criss said.
"For us pre-vaccine, we wore masks. We social distanced during our rehearsals, and we continue to do a lot of virtual kind of things."
Criss posts the choral parts on the choir's YouTube channel that members have access to learn their parts remotely.
"That's just to minimize how much interaction we have with each other," he said.
"And, we practiced outside. One of the things I'm very proud to say is that once the Gospel Choir started practicing again in August even before the vaccine, we have not ever had any transmission of COVID. Not one, which might go against some perceptions that people have of choirs, meetings. We understand the need to be safe."
The choir purchased professional Broadway choral masks.
"They are very huge masks," he said.
"It allows for the droplets while you're singing to be collected inside that big mask, which covers about three inches from your mouth. So the mask is not exactly on your lips, so you have that freedom. That's been perfect."
With the COVID-19 vaccinations of choir members, the choir has increased its numbers during rehearsal and have accepted engagements to sing at venues inside and outside.
JUNETEENTH CONNECTION
Special guest soloist Myra Flynn saw the Lake Champlain Mass Choir, the summer iteration of the Plattsburgh State Gospel Choir augmented with Vermont gospel singers, perform at Burlington's Juneteenth Celebration and reached out to Criss.
"She is a songwriter and singer there in Vermont by way of Los Angeles, California," he said.
"She grew up in Vermont, but many years ago moved to LA. So that's where her career has been. But during COVID, she moved back to Vermont. She's really talented, and I've been working with her in rehearsals."
On Dec. 16, some Plattsburgh State Gospel Choir members will do background vocals for Myra Flynn Band at the Spruce Peak Performing Arts Center Holiday Concert in Stowe, Vt.
"Myra will lead three of our selections ('Let's Celebrate')," Criss said.
"She will sing 'Into the House,' the song I wrote. It's the selection the Gospel Choir did in 2016 at Lincoln Center.
"She will also sing the finale song, 'Yes, You Can.' The whole idea is to encourage people. You can go out, we're at the in end, but everybody stay safe. She will be able to bring her unique tone to that. She's going to sing probably one or two of her own original songs ('Didn't I') without the choir. She will do a praise and worship song called 'I Love You Lord Today.'"
READ ALSO: Why Worry – Prince Joel
SOULFUL SOLOISTS
Soloists Barbara Simmons-Criss and Alexander Malson will perform "When All God's Children Get Together."
Brett Carpenter will solo on "Emmanuel," Annie Lecompte on "So You Would Know," and Criss on "Great God Great Praise."
"We're going to even surprise some people," he said.
"Warren Middlemiss, he's not one of regular soloist but we have this song, 'Trouble Don't Last Always,' that is perfect for Warren's voice. I believe that's probably going to be the crowd favorite."
Praise Dancers William Holiday and Danielle Criss will also perform.
"Once again, this is scaled back from our normal show," he said.
"It's going to be a lot of fun. It's going to be more organic than some of our other shows in the sense that the way Hartman Theatre is designed, there's not a bad seat in the house. It will give everybody a better experience. We're looking for the audience to really enjoy this time together, and we're going to be very mindful on the times that we're in right now."
SAFE HOUSE
There will be an intermission to allow the audience to go outside, take their masks off, take a deep breath.
"The audience will be required to wear masks," Criss said.
"We ask people to arrive on time, so there is not a big surge of people trying to lineup and get inside. You have to remember the concert is in Myers' Hartman Theatre. Most folks are used to our concerts being in Giltz, Hawkins, right. It's a smaller venue."
Choir members have been walking with tickets for sale.
"We really want to keep a handle on how many people come," Criss said.
"We have a limited number of tickets, and we'll even have a smaller number of tickets at the door. So people need to get there early. It's going to be about 100 tickets at the door. When we are at capacity that allows us to be safe, then that will that will be it."