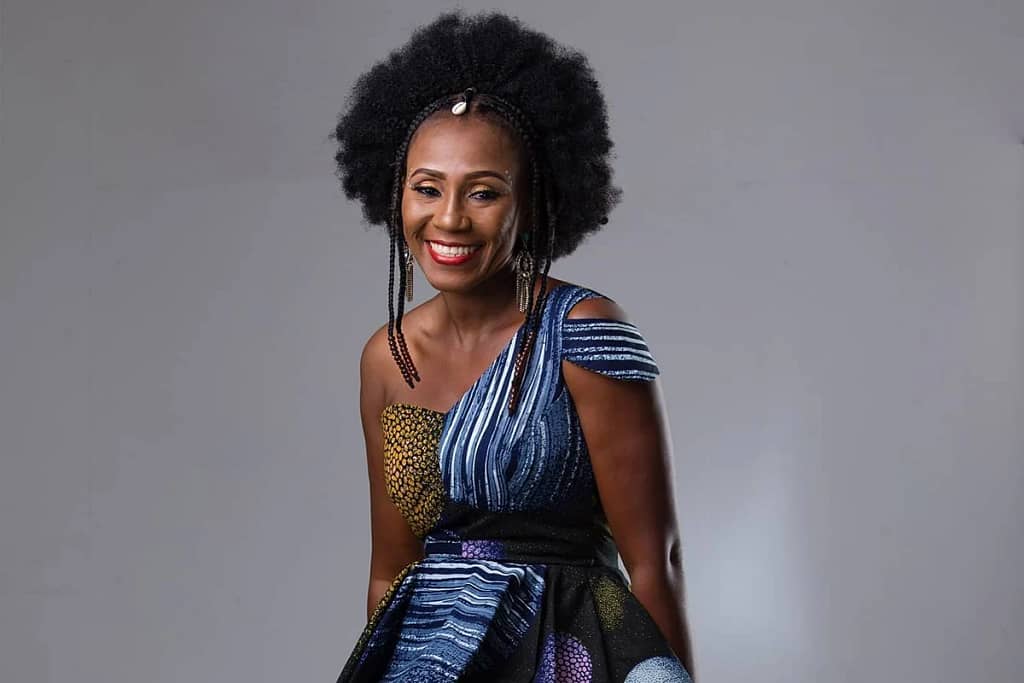 Ghanaian Gospel Singer Wegeiwor Says "Only Intelligent People" Can Compose Reggae Songs
Ghanaian Gospel Singer and Senior Lecturer at the University of Ghana, Wegeiwor Aseweh, has declared that nobody can do a good Reggae song unless they are "intelligent".
Wegeiwor, who was on a media tour promoting her new Reggae gospel song First Love, the first single from her upcoming Ibada EP, made her comments during a radio conversation Ghana's Okay 101.7FM.
"I'm talking about Reggae… It's just an observation. Mi si! If you are not intelligent, you would not be able to sing Reggae songs, or compose them. You can't; if you are not intelligent. Because you have to be philosophical to sing Reggae," Wegeiwor said during the discussion.
"I am yet to find one Reggae Singer who is not intelligent.  I am yet to find one… you have to be very deep in knowledge, very philosophical and conscious enough to find the right words to put together as a Reggae song," she insisted.
When the programme host questioned the religious integrity of doing a gospel song on a Reggae beat and whether Reggae composition deviates from what is considered sacred, Wegeiwor said Reggae was an absolutely perfect genre to carry the message of God, as the Almighty adores intelligence.
"I am a worshipper, and who says God hates intelligence? So it still does not remove me from being a worshipper," she clarified.
The host, seemingly mystified, told Wegeiwor that "Reggae is a genre that the beat forms and composes a song that is reggae" and "you are a gospel artiste and you have stated emphatically – that and you are a gospel artiste".
"But worship is not Reggae, is it?" he asked in seeming bewilderment.
However, Wegeiwor replied that worship music is not predicated on beats, but on lyrical content.
"Worship is more the lyrics than the tempo. You can still worship God in Reggae," she said.
Wegeiwor's Reggae Gospel song First Love, focuses on how Jesus Christ would redeem those who repent and follow him. Her Ibada EP is scheduled for release by year end.
Contrary to the surprise raised by the radio host, Gospel Reggae is said to be the fastest-growing segment of Reggae music at present.
In fact, Gospel has always been a feature of Jamaica's distinct musical genres, including Ska, Rocksteady and Reggae and even its offshoot Dancehall which had their roots in "word of God".
READ ALSO: Tracing Rev. James Cleveland's historic contributions to gospel
Songs such as Oil in My Lamp by Eric 'Monty' Morris which was released back in 1964, The Tree of Life (We Are Rolling On)' by Strange Jah Cole and Ken Boothe, from the Ska era, are impeccable indicators of a major Gospel influence in Jamaican music; likewise the Reggae song The Rivers of Babylon by Brent Dowe and the Melodians, for which a subsequent cover version, also became a global hit for the group Boney M.
Rivers of Babylon's lyrics were adapted from the Bible verses of Psalms 19 and 137. The song appeared on the soundtrack for the 1972 movie The Harder They Come, as well as the 1999 film Bringing Out the Dead and Jack Goes Boating in 2010.
Peter Tosh's song Creation from his Bush Doctor album, which was released in 1978 and which took from the Books of Genesis and the Psalms of David, and Ernie Smith's All For Jesus which was released in 1974, have also long been accepted as church songs.
In addition, many of Jamaica's biggest Reggae and Dancehall icons, even secular artistes, have from long ago voiced  Gospel Reggae tracks, first among them being Sanchez and later George Nooks, Carlene Davis, Lieutenant Stitchie,  Junior Tucker and even Beenie Man.   The songs are much loved in the Dancehall, where God themes stand predominant amongst the staple topics of ganja, guns and girls.